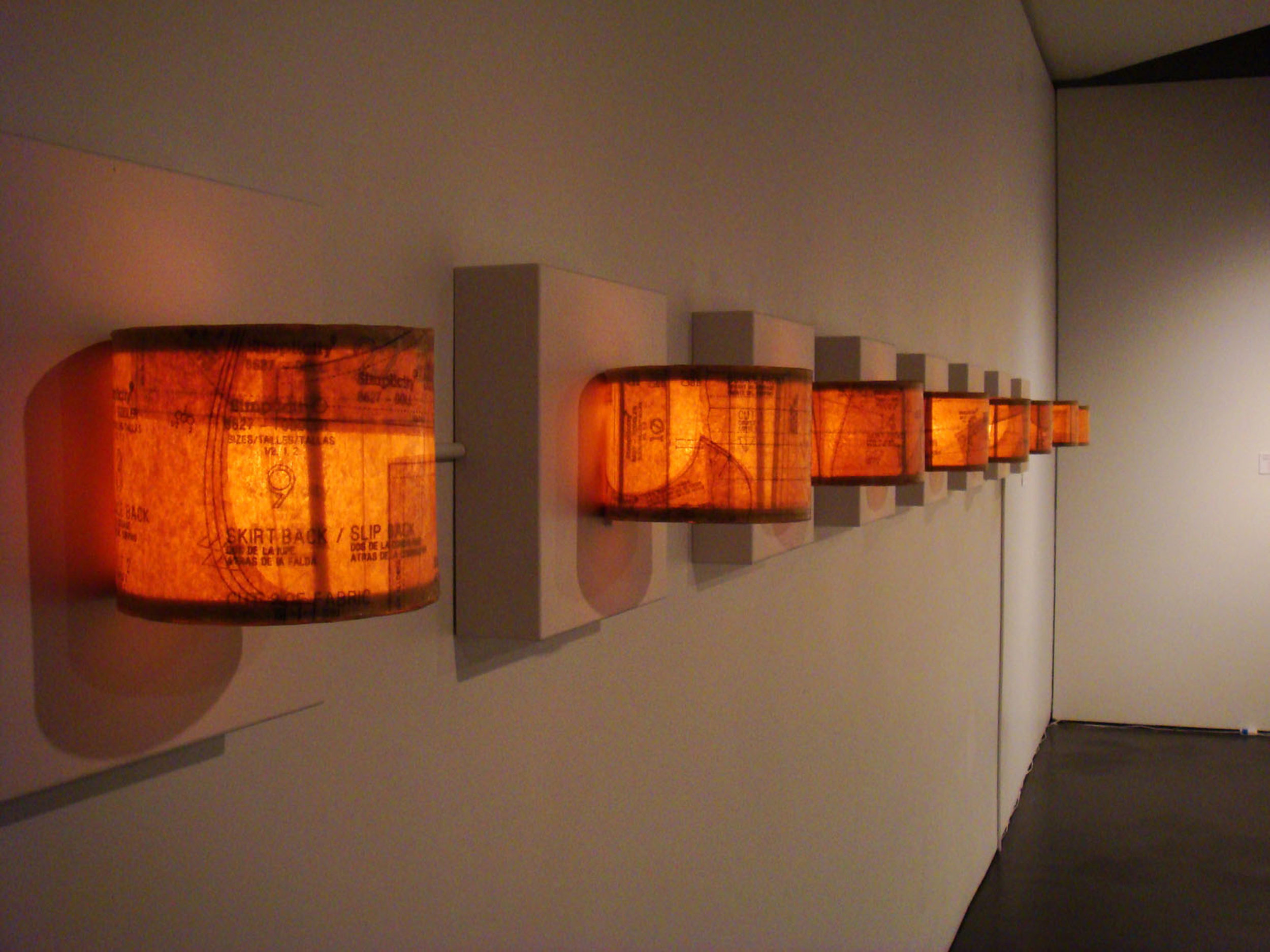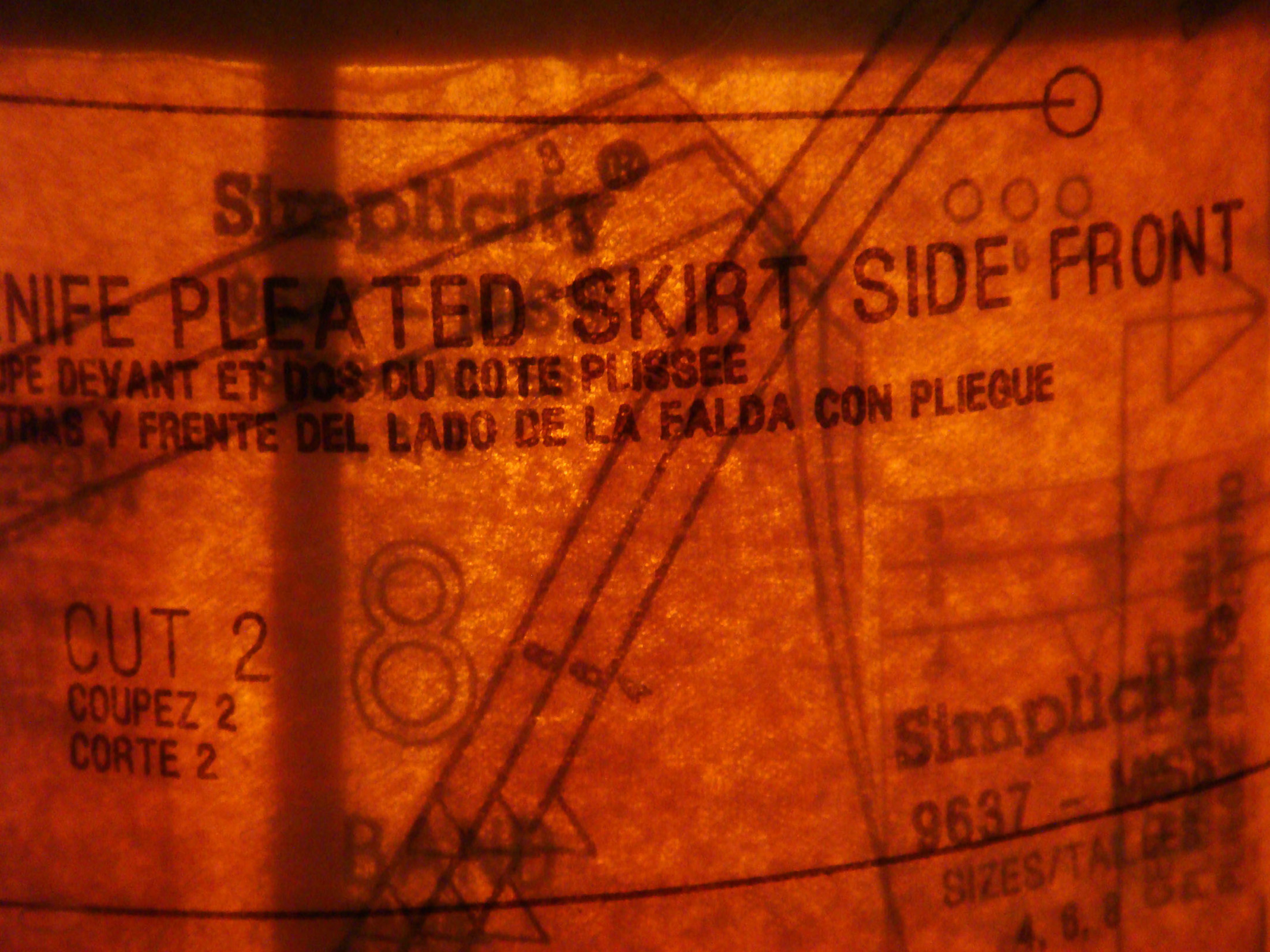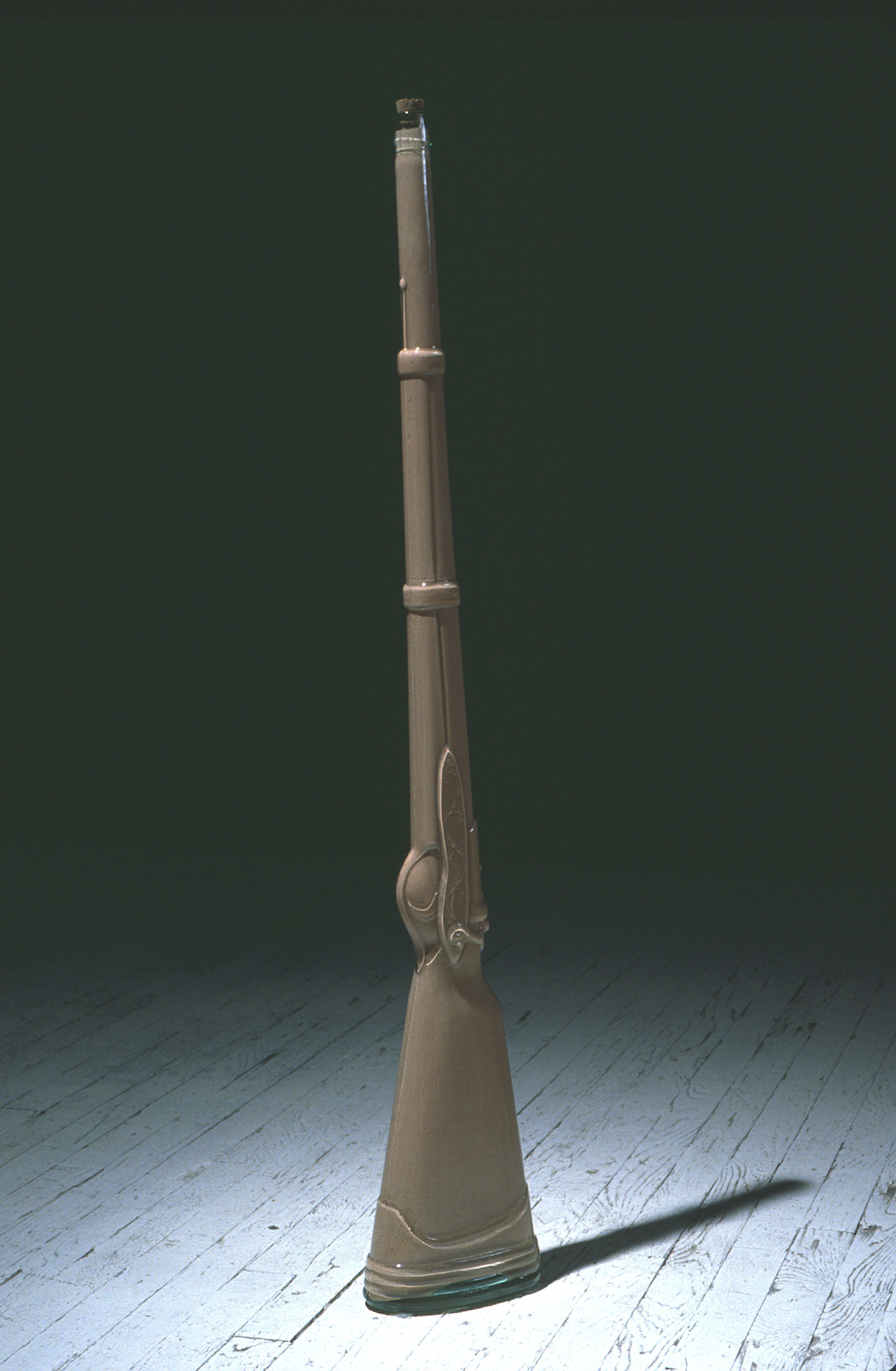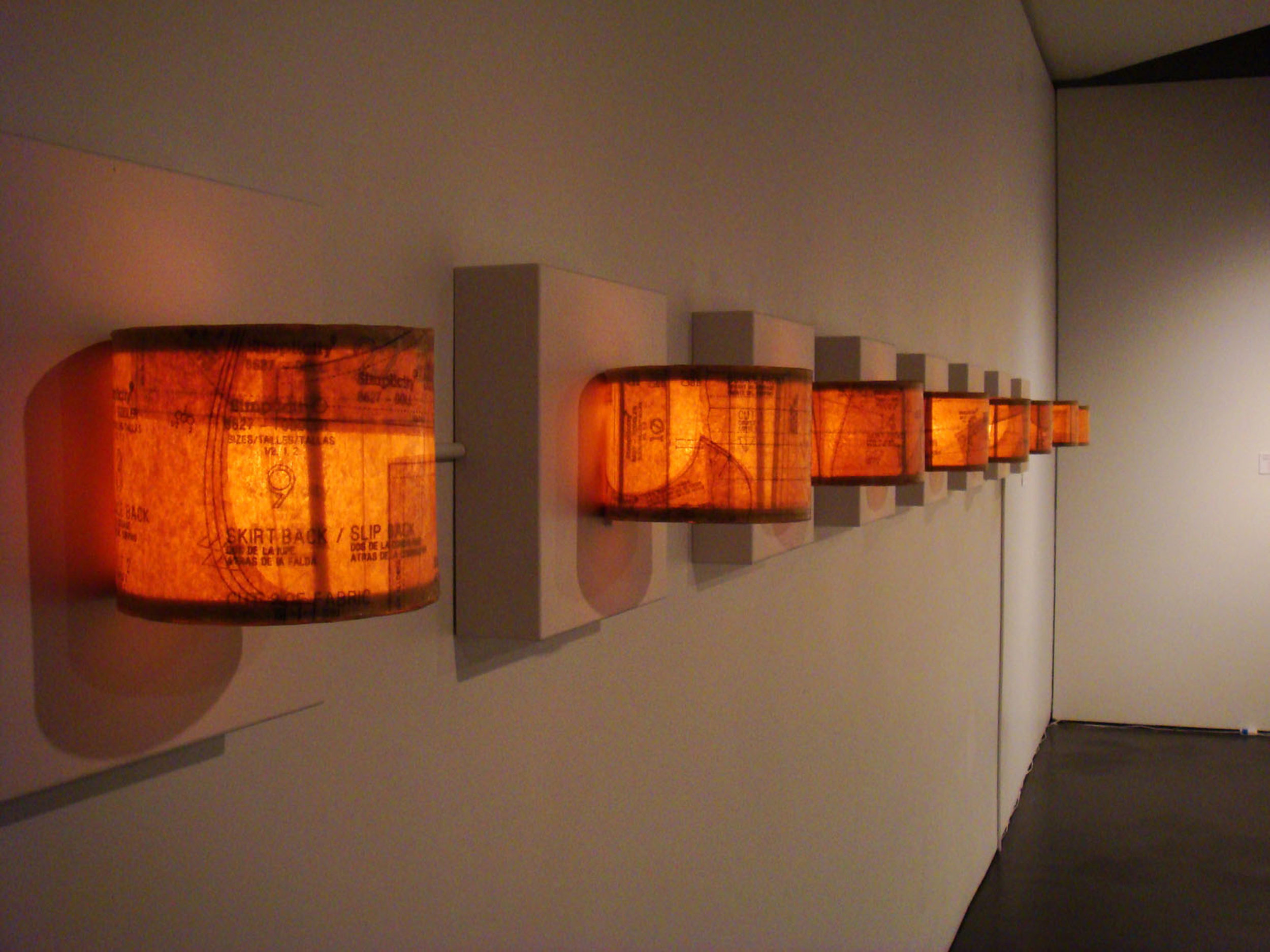 Directions (Waist Series)
Sewing patterns, latex rubber, wood embroidery frames, electrical elements.
2005-2006
This series explores sewing patterns as "directions" – both in a practical application to make a garment and also as societal cues and stereotypes. The actual patterns are decidedly feminine (ballerina outfits, cheerleader uniforms, princess dresses, etc), and all are the brand "Simplicity". Overlapped between layers of latex rubber, the result is a kind of skin-like roadmap that confounds all sense of direction and resembles a confused blueprint that seems suspended in a skin-like pelt. Blatant text on the sewing patterns alludes to "correct" measurements and their corresponding sizes. Implicit, and yet forgiven, are the assumptions inherent in these patterns in terms of "normal" body size, when garment sizing systems have been shown to be highly divergent (a Liz Claiborne size 10 is very different than a size 10 from Victoria's Secret).
The diameters and titles of each form correspond to the waist sizes of celebrity women over the last fifty years. While most won't admit it, we are fascinated by celebrity and are fastidious purveyors of body and appearance of those who are considered fashionable (and pay particular attention to the weight changes of famous women). A small light source illuminated the pattern from inside, highlighting the diagrammatical confusion of the forms as literal and metaphoric maps.
19": Vivien Leigh
22": Demi Moore (1980), Janet Jackson, Twiggy (1966), Teri Hatcher, Mariah Carey, Bo Derek (1983)
22 ½": Raquel Welch (1966)
23": Sally Field, Heather Locklear, Marilyn Monroe, Jennifer Aniston, Madonna (1990), Kate Moss
24": Kim Basinger, Michelle Pfeiffer, Cindy Crawford, Cher, Cheryl Tiegs, Elle MacPherson, Christie Brinkley, Sophia Loren, Jane Seymour,
Drew Barrymore, Cybil Shepherd (1986), Mia Farrow, Barbara Eden, Goldie Hawn, Alicia Silverstone, Jane Fonda (1968)
25": Lucy Lawless, Madonna (1984), Candace Bergen
26": Demi Moore (1996)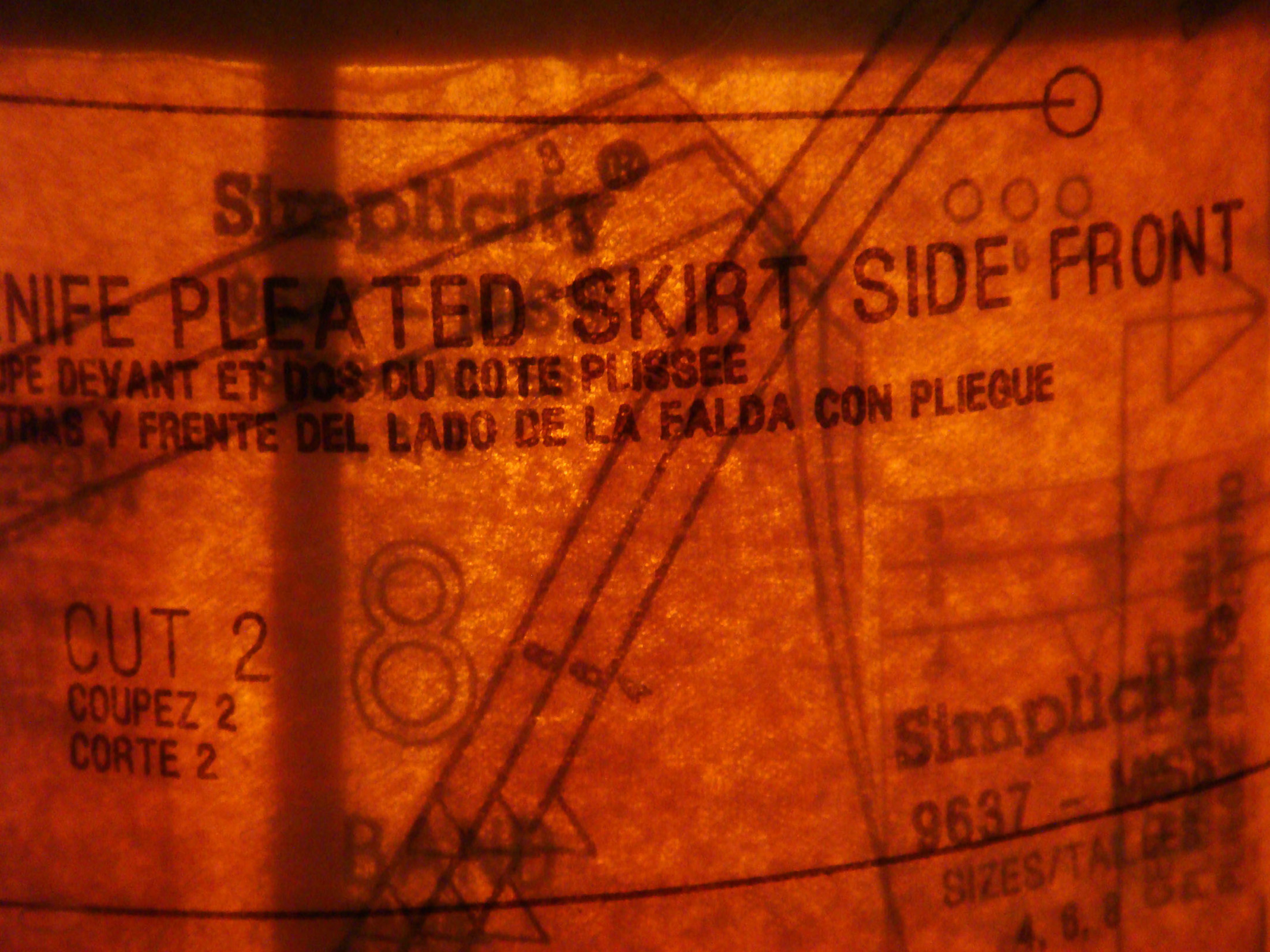 Directions (Waist Series) detail
Loves Me, Loves Me Not
Approximately 9000 fake fingernail tips, hand painted with nail polish
Dimensions variable, 1998-1999
Displayed in its finished state in an open top vitrine atop a pedestal, viewers can run their fingers through thousands of individually hand painted fake fingernails. The nail polish colors are decidedly stereotypical of girlishness or hyper femininity, yet the nails themselves are obviously plastic and of varying sizes. The title refers to the childhood game of plucking flower petals to determine if a love interest would return your affection – here implicated by the act of pulling off one's fingernails. By their sheer number, the nails also allude to the repetitive and obsessive act of painting one's nails as a measure of beauty or attractiveness.
Loves Me, Loves Me Not
Approximately 9000 fake fingernail tips, hand painted with nail polish
Dimensions variable, 1998-1999
Slip
Three 5 gallon buckets of Avon liquid make up
Dimensions variable
1999
The title "Slip" refers to the mixture of clay and water used in making ceramics (many cosmetic and ceramic ingredients are ironically the same), the synonym for a girl who is considered "slight", as well as an unintended accident. This work examines the transformation that occurs in excess – the difference between small, coveted packaging and the raw grotesqueness of the same material in excess. In this state, it is not only overwhelming in color and quantity but also in olfactory impact – the smell of the make up fills the space before the piece is in view.
Puffs
Cuddle fur, lace, fiberfill
Each puff is 35 x 35 x 8"
1998
In generic colors ("boy" blue, "girl" pink, and "neutral" white), these blown up soft sculptures appear as pillows, or objects of comfort. They refer to the cosmetic puffs used to apply make up and are blown up to humorous scale. The color and size allude to codes of gendered and bodily comfort.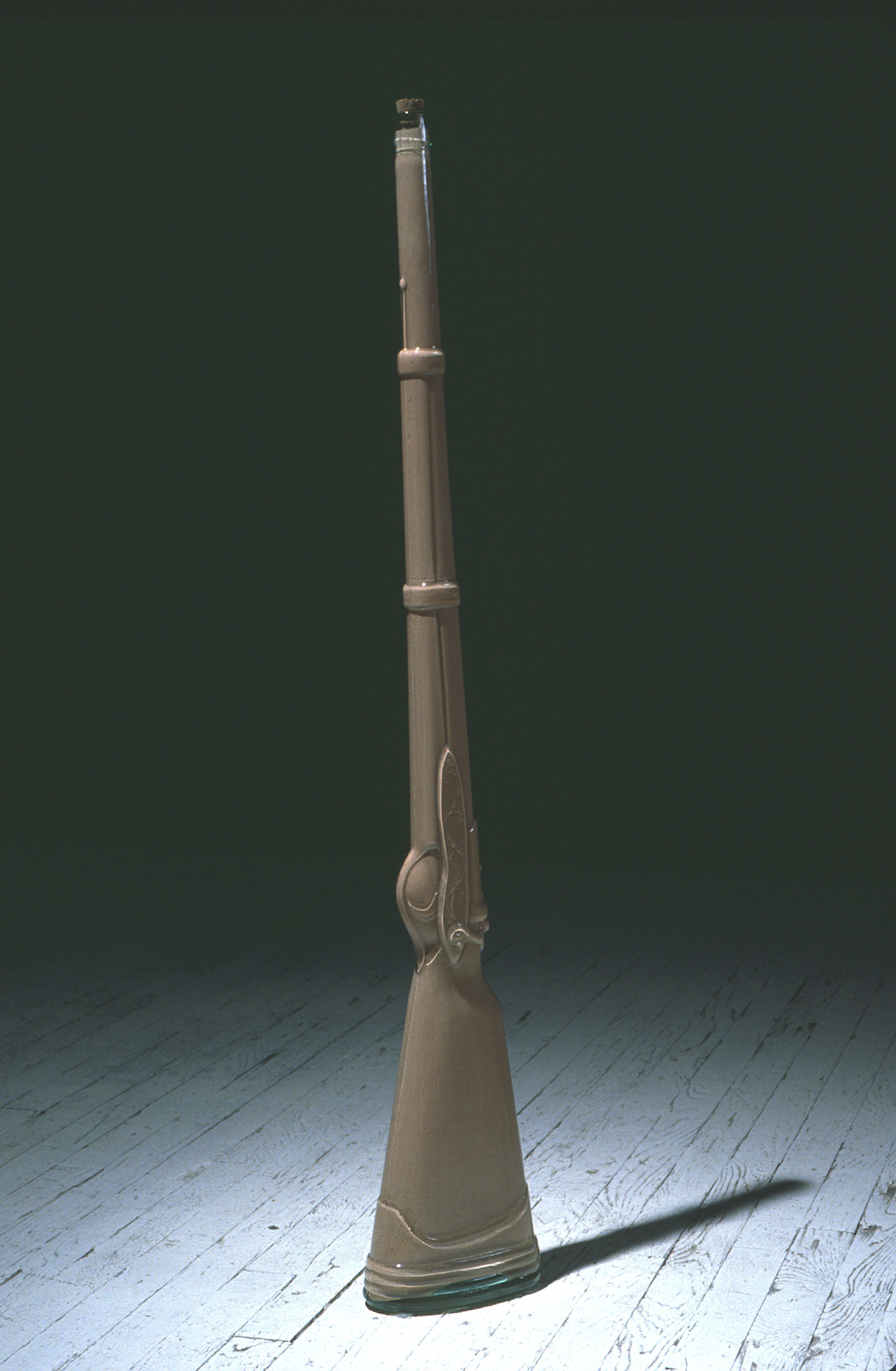 Even Coverage
Liquid make-up and glass bottle
42 x 8 x 4"
1996
This work is a tongue-in-cheek exploration of hyper stereotypes of masculinity and femininity. The masculine form of the glass gun bottle contains the feminine make up, while alluding to "covering" someone with a gun as protection. "Even Coverage" also refers to makeup's desirable ability to hide flaws. Inherent in both is a magnification of packaging and humor.
Stick
Patent leather, PVC and hypodermic needles.
4.5 x 4.5 x 3"
1999
This work is an interpretation of a seamstress' pincushion, the tomato with a hanging bud. This version is intentionally darker, and borrows materials used in BDSM practices that are negotiations of power and pleasure. By taking a domestic object that refers to submissive feminine labor in the home this negotiation of power and pleasure is re-imagined in a different context.
Nipple Compact
Compressed cosmetic powder, mirror, velvet, puff and metal case.
1997
Taken from a mold of my own nipple, this small sculpture is made of compressed cosmetic powder (as a normal compact would be) and could potentially be used. There is a tension between the three dimensional form of the nipple and the compact case's attempt or inability to contain it. There is also an innuendo of pleasure – using the compact would entail touching the nipple, although the more it is used as intended to hide imperfections, the form itself would slowly diminish and disappear.