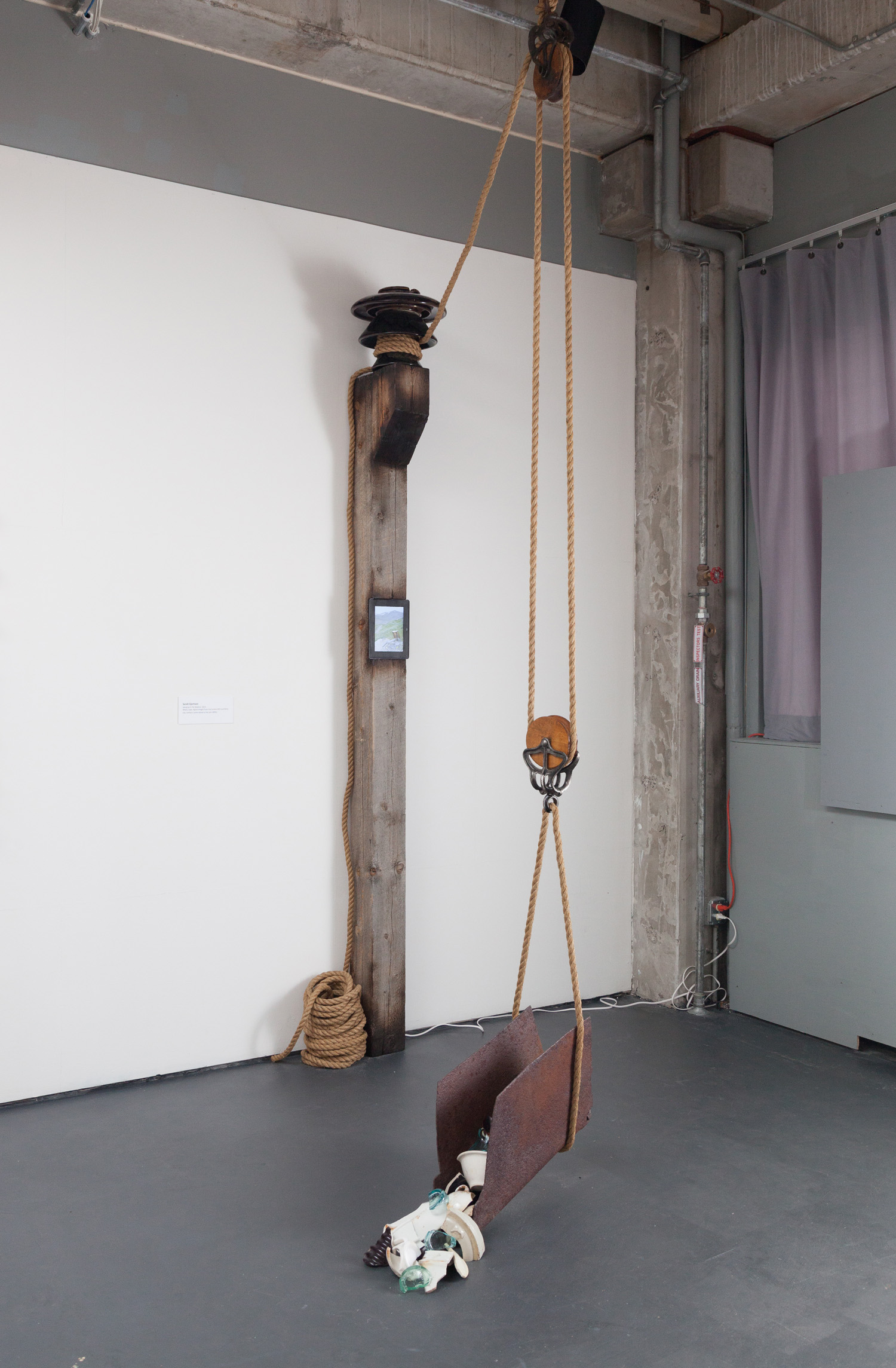 Cinched
Mining artifact and early 1900s waist cincher
2017
With references to both the masculine and feminine, this work of artifacts in combination refers to their use and function in the late 1800s-early 1900s that the Human Imprint project explores. Alluding to the presence of women at historic mining sites, there's also suggestions of the body as form and implement, and the impact of differing forces of technology and the hand. The materiality and physicality of artifacts also have the potential to tell their own stories and transport us back in time.
Icon of the West
Mining artifacts and antique hair piece
2017
This work references the iconic livestock skull that is so often employed as an icon of the Pioneer West. The livestock skull has become a symbol, a brand, or decorative artifact commonly seen in contexts aiming to reference this particular history - either as a gesture of conquest or as a totem of hardship or survival. Here, objects and artifacts are arranged to resemble the image of this icon, but with purposeful reinterpretation. The hair piece suggests the presence of women as central to this part of this history and iconic status, integrated with mining artifacts (a rusted steel rod, handle from a porcelain coffee cup and glass bottle shard turned purple from long term manganese/UV exposure).
From Touch I Learned
Handmade velvet book, antique desk and chair.
Viewers are invited to sit at the desk and page through the book.
2017
Handmade velvet book, with printed images sourced from the Isaac S. Smith collection at the Park County Local History Archives in Fairplay, Colorado. The book, through touch and visual images, tells part of the story of the Smith family, particularly that of the youngest daughter, Ruth. Her unexpected death had a profound impact on the family, whose story I learned from researching the collection, and through the privilege of touching and reading family documents that were kept for over a century.
From Touch I Learned (detail)
Detail of handmade velvet book.
Viewers are invited to have a seat at the desk and page through to book.
Treasure
Hand hewn beam from the late 1800s, placer gold from Fairplay, Colorado
2017
A hand hewn beam crafted in the late 1800s, this solid wood object reveals the methods of its making - all carried out by hand, using tools that were also made by hand. Shaping, notching, joinery and other structural technologies that have their origins in barn construction are seen in the historic structures that existed at mining sites - many of which still stand over a century later at remote alpine locations (a testament to their fortitude). Hidden throughout this object, bearing its gray patina that only long term exposure outdoors can yield, are nuggets of real placer gold - that which is also acquired by the laborious process of panning. Both celebrate the integrity and reward of hand work, but also a questioning of value and wherein the true treasure lies.
Treasure (detail)
Image showing one of the nuggets of gold embedded in the beam.
2017
Dozed (front view)
Artifacts unearthed from a bulldozed pile near a mining site undergoing a "reclamation" effort – many dated to the late 1800s
Dimensions variable
2014
Located in bulldozed piles that surrounded a reclamation site of a historic mining operation in Colorado, these objects were handled as garbage might be at a landfill. Located by accident at a frequently visited historic mining site, this is but a sampling of historic objects that had been bulldozed into artificially manicured piles of dirt, gravel and other residual detritus. Many of these objects have been dated to the late 1800s - a perhaps dubious handling of historic material. Cleaned and rearranged, they bear witness to the past and link us to that history, having been touched or used by those now long gone. Here they have been oriented so their fragmented, broken or otherwise disregarded handling is celebrated, with larger questions about how histories are managed, maintained, altered or lost.
Dozed (side view)
View of artifacts as they are positioned off the wall.
Dimensions variable
2014
Object of Contention
Wood, rope, artifacts, photographs from the London Mountain mining district printed on fabric
2014
Many historic mining sites in Colorado are places of contention, revealing tensions between local governments, communities, forest service interests, recreational activities, tourism and land development that threatens their access and historical presence. This sculptural work presents interrelated objects that rely on each other for physical support and the interrelationships of material and function that bear specificity to a place in time and to site. The wood beam is bolted into the wall and supports artifacts on its top, while providing a surface for ceramic electrical insulators through which manila rope is woven, and off which photographs printed on fabric hang under their own weight. The photographs are details from the London Mining district in Park County, Colorado, where remaining structures, equipment and artifacts remain...for now. This area has already seen the negative impacts of reclamation and investor efforts that have destroyed structures and limited access on public lands. While the work takes its cues from this specific site, it also pays homage to the countless others that have already disappeared, or are threatened by other human impacts.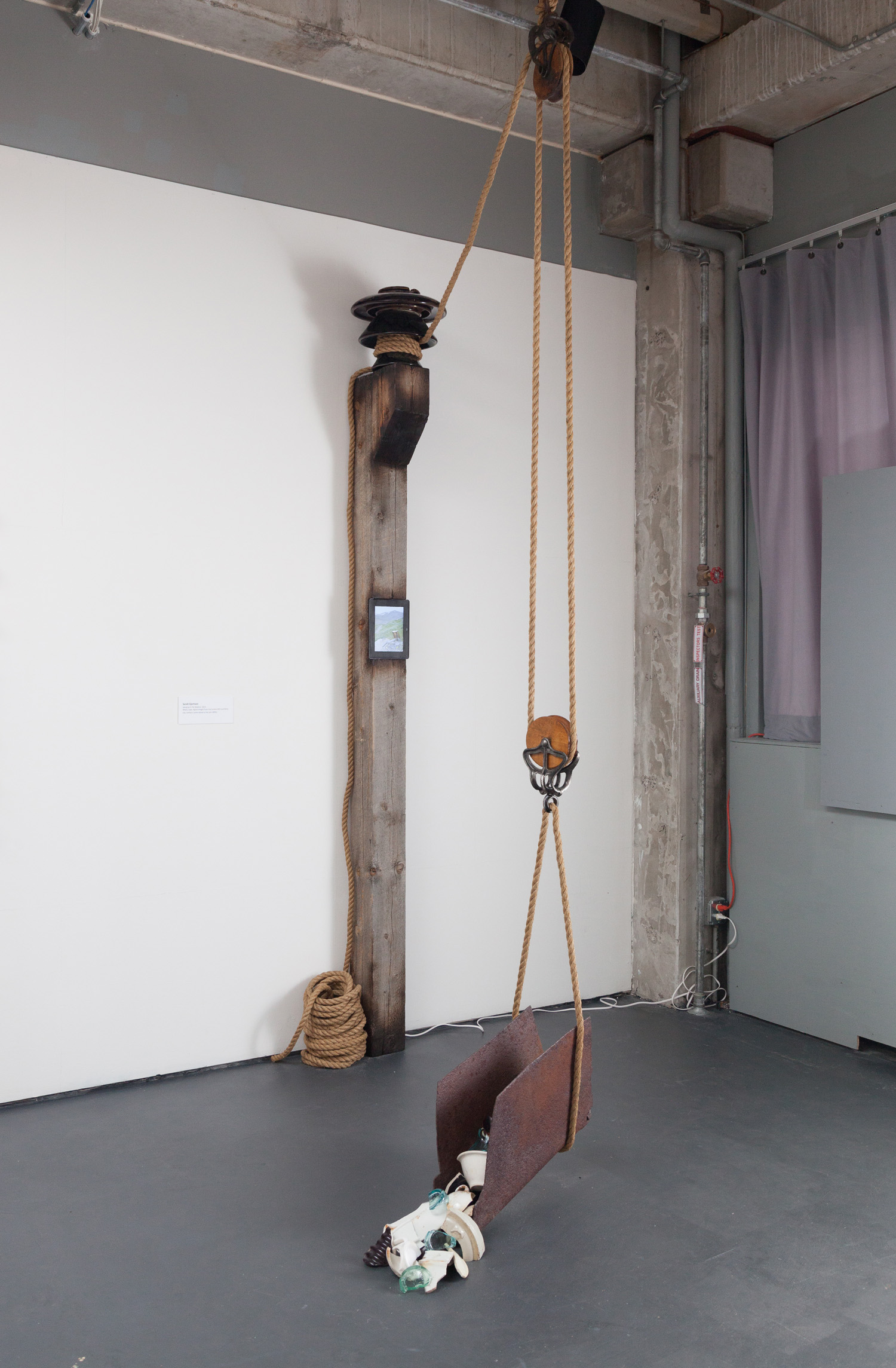 Hanging in the Balance
Wood, rope, monitor looping digital photographs from the London Mining district, artifacts (some dated to the late 1800s)
2014
The title not only describes the work's physical reality, but also alludes to the literal reality of many historic sites. Incorporating artifacts, wood beams, a pulley system and a digital monitor of looping images taken at the London Mining district, the work can be walked around and through, with the looping images offering further context to the physical objects presented. What might have been an ore chute now spills forth with fragments of ceramic plates and glassware, almost as an offering.
Hanging in the Balance (detail)
Detail showing suspension pulley and artifacts.